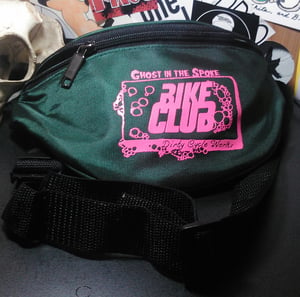 $

10.00 - On Sale
Video preview of the BOOty Bag : http://tinyurl.com/me6dxrx
-ALL PROCEEDS GO TO FUNDING AN ADVENTURER'S HOSTEL IN FLORIDA!
- Our bag can be worn on all positions of the waist.
- Screen printed in heavily for maximum life of the print
- The "BOOty Bag" has a capacity of 2 canned beverages, keys, wallet and phone.
- Zippered pocket to keep everything safe inside.
- Integrated webbed belt can be used with or without belt loops and is expandable for all body types.
- Quick release buckle
- Watermelon color scheme, so that makes it better than any other bag on the market.
- 14" W x 6" H x 3" D
- Nylon 420D
Most importantly, you are helping someone who would like to make a safe place for travelers to visit and enjoy while traveling through Florida. Thank you all of contributing, it means the world to me. This is my goal/dream for my life on this planet.
For more info on the Adventurer's Hostel check our site. www.ghost-in-the-spoke.com